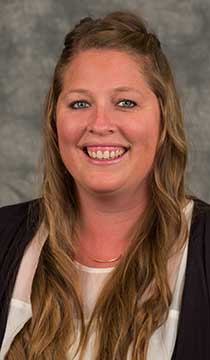 Lauren Ebstein came back to join the Jumbos staff as an assistant in the summer of 2013 and was promoted to Associate Head Coach in the summer of 2014.  She has been on staff for two of the three NCAA National Championships including, the 2015 season when the Jumbos were 51-0.  
The Jumbos have played in the NCAA Tournament all three seasons that Ebstein has been on staff, and won NESCAC Championships in 2014 and 2015.  She has been on staff for two NFCA Coaching Staff of the year awards, and was able two spend two years working with Allyson Fournier, a four-time All-American, two-time Honda Award winner and the first Division III player to play in the National Pro Fastpitch League.
Prior to returning to Tufts, Ebstein spent one season at Valparaiso University, working with the pitcher and catchers during the Crusaders 2013 Horizon League Championship.  The Crusaders won the Horizon League Championship and played in the Ann Arbor Regional at nationally-ranked Michigan, winning the program's first ever NCAA tournament game. Under her guidance, a freshman pitcher was ranked 16th in Division I in strikeouts per seven innings, broke the school's single season strikeout record and finished the regular season leading the Horizon League in ERA and strikeouts.  
During her two seasons at Colgate, Ebstein helped the Raiders to a 28-11 mark in Patriot League play, including the conference regular season title in 2011.  She coached Patriot League Pitcher of the Year in 2011 and three All-Conference pitchers during her two years on staff in addition to ten total All-Conference honorees.  Colgate pitchers were selected as the Patriot League Pitcher of the Week seven times.
Prior to her stint at Colgate, Ebstein was an assistant here at Tufts for two seasons, including serving on staff in 2009 when the Jumbos finished in fourth place at the Division III College World Series.  Part of the NFCA Division III New England Region Coaching Staff of the Year in 2009, she helped coach a pair of conference championship teams and 14 All-NESCAC honorees over her two seasons on staff, including a NESCAC Pitcher of the Year and two NFCA All-Americans.
A 2007 graduate of Tufts, Ebstein was a four-year letter winner for the Jumbos when the Jumbos won the NESCAC Championship in 2007 and appeared in three NCAA Regionals during her time wearing brown and blue.  A captain her senior year, Ebstein graduated with a bachelor's degree in English and psychology and earned her master's degree in journalism from Boston University in January of 2009.